Last year, internet advertising surpassed newspaper advertising spending for the first time. Advertisers spent $5.1 billion on social media advertising in 2013and this figure is expected to exceed $14 billion by 2018. In the third quarter of 2014, Facebook brought in $2.96 billion in advertising revenue, 66 percent of which came from mobile ads. Twitter generated 85% of its total revenue from mobile advertising in the same quarter, representing about $320 million.
Still not convinced of the value of social ads?
On Facebook, desktop ads have 8.1x higher click-through rates and mobile ads have 9.1x higher click-through rates than normal web ads. Meanwhile,Promoted Tweets have shown average engagement rates of 1-3 percent—much higher than traditional banner ads. It's no wonder that by June of this year, nearly 80% of US marketers were using promoted Tweets.
Social media advertising isn't just a buzzword anymore. It's a real, tangible driver of leads and sales, and marketing departments are increasing their social ad spend across the board in response. Facebook, Twitter and other social networks are filled with hundreds of millions of consumers. Why wouldn't you take advantage?
To help you make use of these valuable new advertising tools, here is our beginner's guide to social media advertising.
General Tips for Social Media Advertising
Earlier this year, Hootsuite's CEO Ryan Holmes put together six ways to use social media ads to grow your business. Here are his tips for social media advertising:
1. Use free social media to beta-test your paid social ads
You're likely already sending out multiple Tweets, Facebook Posts and LinkedIn Updates every day. Some of these messages will resonate with followers; others won't. Track which ones are being clicked, shared and commented on. These high-performing messages make the best candidates for native social ads.
2. Take advantage of targeting features
One of the major issues with traditional ads is inefficiency. Twitter, LinkedIn, Facebook and other social media advertising platforms offer very effective targetting capabilities to address that problem. From targeting social media managers on LinkedIn to Game of Thrones fans on Facebook, take advantage of this very useful targeting for more efficiency in advertising.
3. Rotate ads frequently
One of the biggest issues advertisers deal with on Facebook is ad fatigue. This means, when people start to see your ad too many times, they get bored of it and stop clicking. Unfortunately, when your click through rate starts to drop Facebook penalizes you, driving up your cost per click (CPC), and making likes, comments, and click throughs more expensive. This affects both acquisition and engagement campaigns. A best practice that we use at HootSuite in order to combat this, is to rotate our ads every 3 to 5 days to keep our content fresh and engaging.
4. Use small samples to A/B test your social ads
One of the great virtues of social ads is instant feedback. You can gauge the effectiveness of a sponsored post in minutes, and follow up with advanced analytics reports. With all this available data, you should be sending out several "test" ads to small audiences, tracking the results, and then pushing winning ads to larger groups. It's cheaper and more effective.
5. Understand how ads are sold
Different networks sell ads in different ways. On Twitter, companies pay on an engagement basis. Facebook and LinkedIn offer the option of paying per impression. It's critical to design Tweets and Posts accordingly. For example, since we pay Twitter each time users click on our ads, it's important that people be genuinely interested in the content on the other side. The goal here is to drive genuine prospects to our site, not merely to attract views.
6. Design your ads with smartphones in mind.
Social media is consumed overwhelmingly on mobile devices. Twitter users spend 86 percent of their time on the service on mobile. Facebook users aren't far behind at 68 percent. This means most social media ads are being viewed on mobile devices, as well. As a result, messages have to be optimized for viewing on small mobile screens. While this may seem like a pain, Twitter recentlyunveiled a feature enabling paid Tweets to be targeted by zip code, so it's also a huge advantage.
These six tips can be explored in more detail in the original post.

Twitter Advertising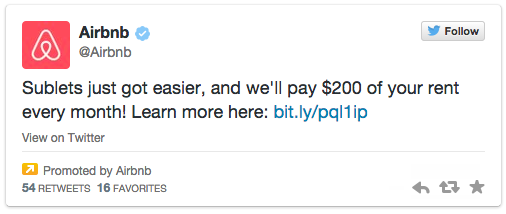 Ad types
There are three different kinds of Twitter Ads: Promoted Accounts, Promoted Trends, and Promoted Tweets.
Promoted Tweets are messages that will appear directly in the timelines of the Twitter users you targeted and at a specific time you have bid on.
A Promoted Account is an ad that invites targeted Twitter users to follow your brand – attracting more of the right followers to your brand faster.
Trending topics on Twitter are the most talked about subjects on the social network, appearing on the left side of the page. Promoted Trends allow you to put your story at the top of that list for 24-hours.
Your Twitter ad campaigns will also be categorized by objective. Twitter ads can have Tweet engagement, website clicks or conversions, app installs or app engagement, video views, follower growth, and Twitter lead collection as possible objectives. Your choice will depend on what you hope to achieve with your ads, your audience and your budget, since some of these objectives will drain your budget faster than others (engagement is far easier to achieve than app installs).
Audience and targeting
Twitter is one of the social ad platforms that allows you to target your ads to specific groups of people. Like most platforms, Twitter allows you to target based on location, gender, languages, interests and device. You can also upload specific lists of people (your email list for example) to target with ads.
But Twitter targeting is especially valuable if you're looking to target people based on their networks. Basically, if you have a coffee shop in Vancouver, the strength of Twitter ads is that you can target audiences already following rival coffee shops in the city. You can also target people who are similar to your follower base, which is a great way to find your target audience.
Pricing
The cost of Twitter ads depends really on the ad type. Promoted Tweets and accounts might cost you anywhere from 50 cents to 10 dollars or more per engagement (video view, link click, follow, etc.) based on how targeted your ad is. Promoted Trends on the other hand have been reported to cost $200,000 a day.
The key here is testing your ads. Run a few short campaigns with a small budget to find out which objective is right for your audience and your budget. Twitter only charges you when a user completes the action set out in your campaign objective anyways, so all of these campaigns will provide some value. Good advice for advertisers is to look at what other advertisers are bidding for similar ads, which is information Twitter provides anyways.
How to buy
Once you sign into the Twitter ads platform (and insert your payment information), actually buying Twitter ads is a simple six-step process.
Step 1: Start a new ad campaign
You will have to name your campaign, choose your funding source and customize your start and end dates before anything else.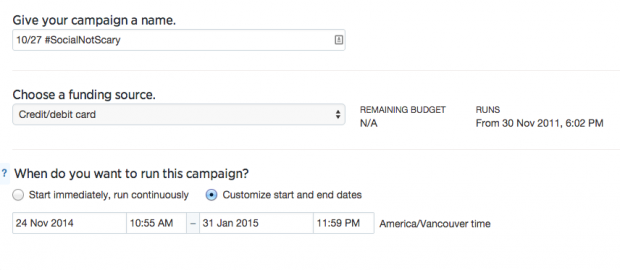 Step 2: Choose ad objective
The next step towards building you ad is choosing a campaign objective. Simply select an option from Twitter's list.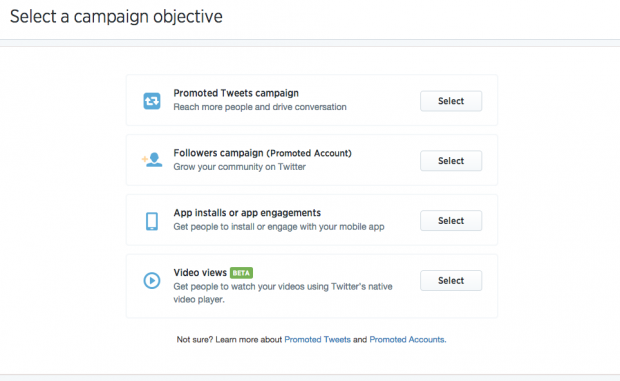 Step 3: Target your ad
Choose from among Twitter's targeting options. They provide an estimated audience size to help guide you.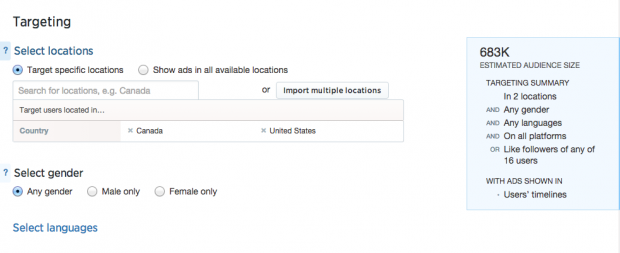 Step 4: Build your ad
Build your ad by adding copy, and any images and video.

Step 5: Set your budget
You can set daily maximum as well as total campaign budgets. Twitter stops showing your ads once your budget has been reached, so that you don't have to manually end campaigns to avoid being charged.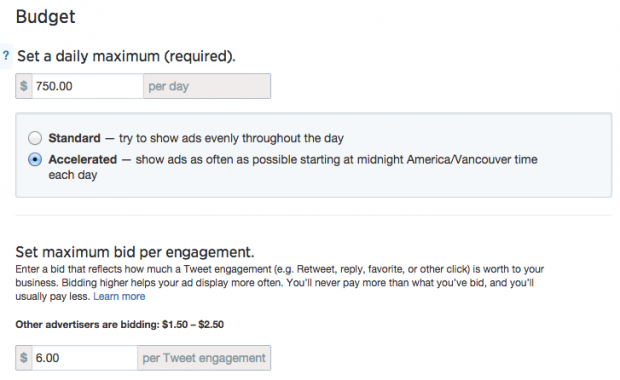 Step 6: Place your bid and start advertising
Purchasing Twitter ads works on a bidding system. You set your bid for how much you're willing to spend for a specific  user action (website visit, retweet, etc.). Others will be placing competitive bids, but the most you'll pay is one cent more than the next highest bid. Once you win your bid, your ads will immediately go into play. They'll continue until your budget runs out.

Facebook Advertising

Ad types
Facebook has one of the more complex social advertising platforms. There are numerous categories that every ad can fall under. The main categories are based on objective. They are:
Page Post Engagement
Promote well-performing posts
Page Likes
Get Likes for your page and grow your audience
Clicks to website
Get people to visit your website. 
Website conversions
Promote specific conversions for your website.
Video Views
Create ads that increase views on a video 
App Installs
Get people to install your mobile or desktop app 
App Engagement
Get people to use your desktop app
Offer Claims
Create offers for people to claim in your store
Event Responses
Increase event attendance
Several of these ad types might fall under the category of boosted posts, or content that you've posted organically that you then choose to promote. We've written about Facebook's boosted posts in more detail here.
One you choose the ad type, you also need to decide on placement. Your options are in the Facebook News Feed, the Facebook mobile News Feed or the Facebook right hand column. 
Audience and targeting
Like Twitter, on Facebook you can target audiences based on location, language, age and other common demographics. For many people, Facebook is far more valuable when it comes to targeting people by interest. Facebook let's you choose from a remarkably large list of interests so you can target, for example, who love Aviation or people who love snack foods (or both, if you're selling plane-shaped chips). Additionally, Facebook let's you target people based on behaviours, like their purchasing behaviours and charitable donations. This offers real opportunity to find the audience that matches your ideal prospects.
Pricing
It's extremely difficult to pin down an average cost for Facebook ads, since it will vary drastically between businesses and ad types. Some sources reportFacebook ads averaging around 25 cents for every 1,000 impressions while others point to it being over six or seven dollars. Again, the key is to test your ads in various formats to find out which is most cost effective for you.
With Facebook you have the choice of using a cost per click (CPC) bid, or a cost per thousand impressions (CPM) bid. The former is a great choice to start off with but if your ad is performing very well, the CPM model may be cheaper since those impressions will come easier. Either way you will only pay for the impressions you receive.
How to buy
The buying process for Facebook ads might seem long at 6 steps, but it's quite fluid, as almost all of your actions take place on one screen. 
Step 1: Choose your campaign objective
Pick from among the ad types described above. Once you do, you'll be prompted to choose which Facebook page you'll be promoting and to name your campaign.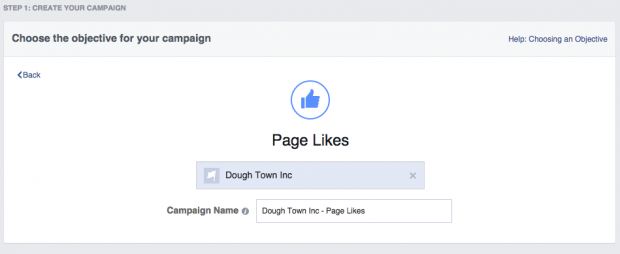 Step 2: Create your ad account
If you haven't already, you'll be forced to enter your information to create an ad account, including currency and time zone.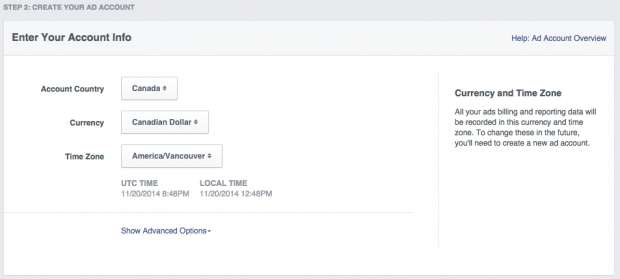 Step 3: Target your ad
Facebook calls this choosing your ad set. Essentially you need to choose from all the targeting options and segment the audience of your ads. Facebook informs you if your choices make the ad's potential reach very broad or very specific.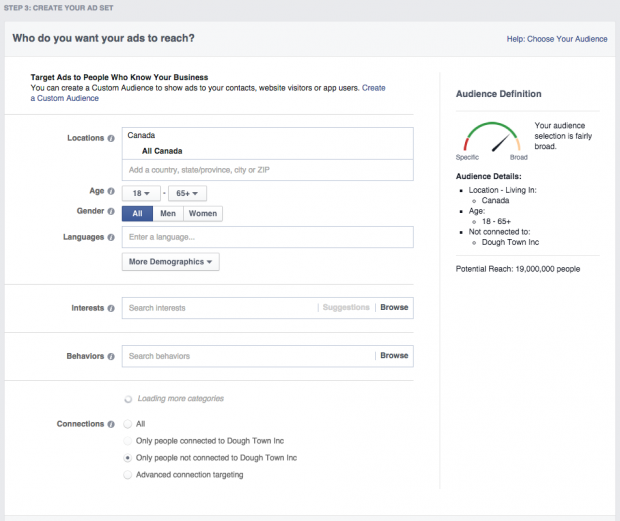 Step 4: Set your budget
How much do you want to spend per day and on what schedule?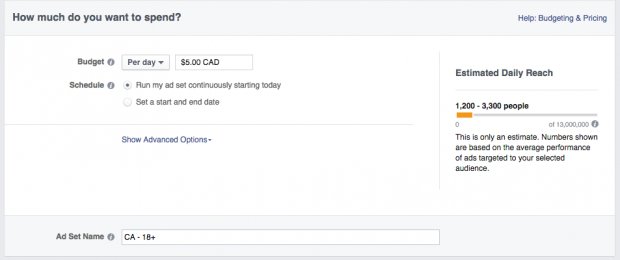 Step 5: Build your ad
Add the images and text you want to use in your ad, and then choose the placement (news feed, mobile news feed or right column).
Step 6: Review and place your order
Review your ad campaign and then place your order. Facebook reviews all ads that get submitted before approving them and sending them out into the world. 

LinkedIn Advertising

Ad types 
There are three main types of LinkedIn Ads.
Premium Display Ads
Allow you to share content with a targeted audience through display ads 
Email Marketing via Sponsored InMail
Deliver sponsored content directly to LinkedIn user inboxes
Direct Sponsored Updates
Your updates will appear in the LinkedIn timelines of your target audience
Audience and targeting
LinkedIn targeting, not unlike the social network itself, is very good for employee and company specific targeting. You can specify who you want to see the ad based on the industry they work in, their position and seniority (maybe you're sharing a white paper for managers?), where they work, how big their employer is (think of a post targeting enterprises, not SMBs), and beyond. As a result, LinkedIn is extremely effective for B2B marketing and job-related advertising.
If the audience you choose is too big or too small it might not perform well, so test audience targeting with several ads to hone in on the right one for you. 
Pricing
Like Facebook, LinkedIn lets you choose whether to pay based on the cost-per-click (CPC) model, or pay by every 1,000 impressions (CPM). LinkedIn has set a minimum budget of $10/day for users of their ad platform however. There are also minimum bids for CPC text ads ($2.00/click) and CPM text ads ($2.00/1,000 impressions). Sponsored Update minimum bids will vary based on the audience you choose.
With these minimum bids, it's important that you seriously consider your objective when building out LinkedIn ads. These ads should be very business-focused, as Facebook and Twitter provide much cheaper alternatives for content marketing. Test a few LinkedIn ads and see whether the price is worth it for your business.
How to buy
Step 1: Create a new campaign
There's a Business Services tab on the top right of your LinkedIn homepage. Hover over it and choose advertise. If you're a new advertiser, click Get started. If you've advertised before, click Manage and you'll be taken to your Campaign Manager. Once there click Create new campaign in the upper right.
Step 2: Choose your ad type 
Name your campaign hoose from among company updates (picked from existing posts and will appear on your page) and direct sponsored content (which will appear in people's home feeds). It will provide an ad preview for you. 

Step 3: Build your ad (if it's direct sponsored content)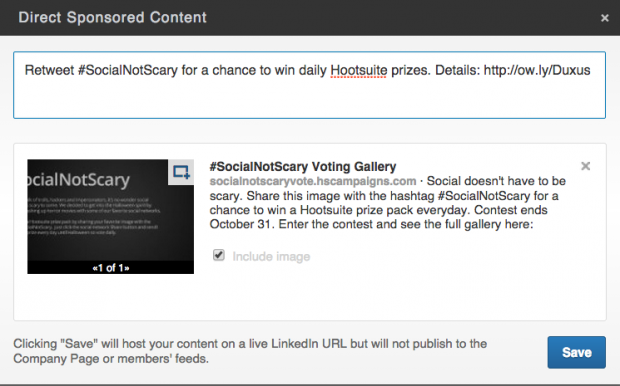 Step 4: Choose your target audience 
Choose your target audience by industry, company size, job title, tc.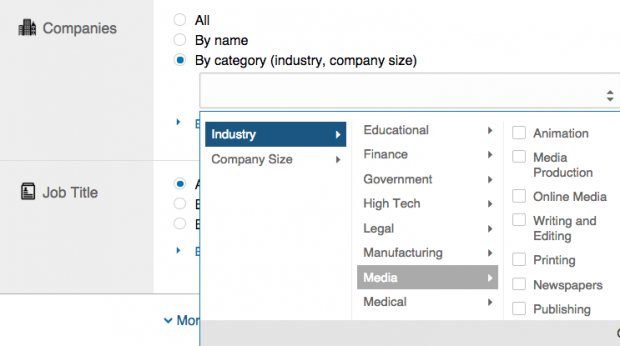 Step 5: Budgeting
Set your daily budget and your bid, which will be a choice between paying for clicks or impressions. Then save your changes.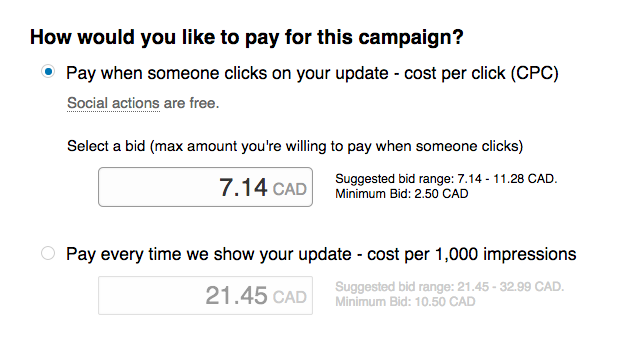 Step 6: Launch your campaign 
If you've never built an ad before, finish by entering your payment information. Then review your 'order' and launch your campaign.

StumbleUpon Advertising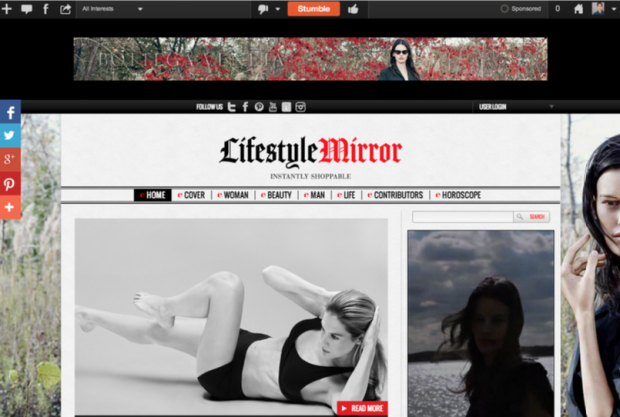 Ad types
An unsung hero of social media advertising, StumbleUpon is a very simple and website and social ad platform. There are no ad types per say, because whatever webpage you submit is in and of itself the ad. The page will appear the same, but with a 'sponsored' border. Purchasing the ad guarantees a certain amount of pageviews from StumbleUpon users.
All StumbleUpon ads inherently have pageviews as a goal, but the main objective of the ad is entirely dependent on the page you provide. If the call to action on your page is for an app download, then app downloads might be the objective of your ad. But all you're paying for is pageviews, with no guaranteed of any lead generation or follow-through from your viewers.
Audience and targeting 
StumbleUpon doesn't have the most advanced targeting because it doesn't gather that much information from its users. You can target based on age, gender, location, device and interests. In this case, your best bet is almost surely to target based on interest since most StumbleUpon users designated the content topics that they want to be exposed to.
Pricing
When using StumbleUpon ads you're charged for every visit to your webpage. When creating you ad, the builder will recommend a price of between 10 and 50 cents per visitor. The price recommended will depend on how targeted your audience is. You can actually adjust the recommended price, but if you do your ad will receive less priority in their system, which could ultimately impact its success.
How to buy
Step 1: Create an advertising account
All they need is your email address and a password. 
Step 2: Add your URL
Again, you don't actually create an ad for StumbleUpon, which can be a big time saver for businesses. All you do is input the URL of a webpage you're hoping to drive traffic to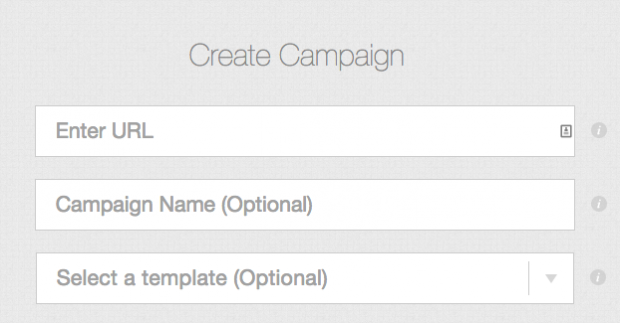 Step 3: Set your target audience and budget
Choose your target audience or let StumbleUpon optimize the audience for you.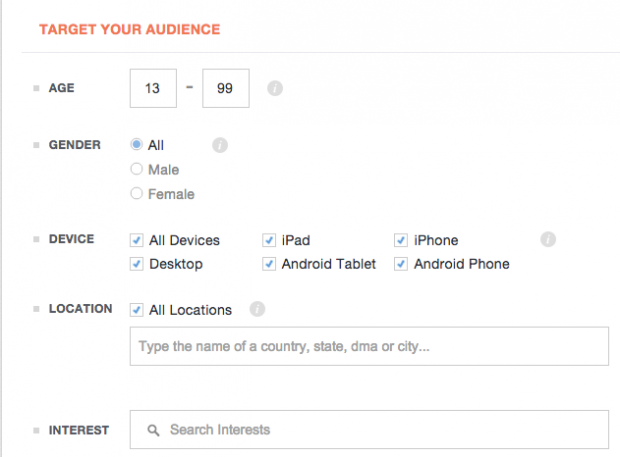 Step 4: Set your daily budget 
Then set your daily budget and choose your serving priority (what priority do you want your ad to appear as people Stumble).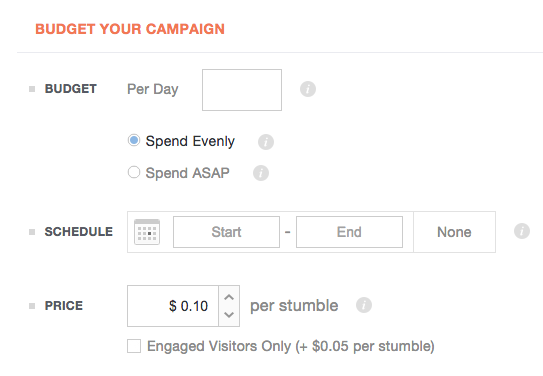 Step 5: Submit your ad
StumbleUpon reviews ads submitted by new advertisers. This process usually takes a few hours. Once approved, your ad will go live.
Other
Instagram Advertising
Instagram ads are quite new, and as of yet there is only one type: an image that will appear in non-follower feeds with a sponsored icon on the top right corner. These ads are also only available to selected brands with an existing following as Instagram irons out their ad platform.
With its mobile focus, visual appeal and young audience, you can bet brands will jump on Instagram ads as soon as they become widely available. In the meantime, here's a more detailed primer on Everything You Need to Know About Instagram Ads. 
Pinterest Advertising
Pinterest still hasn't launched its ad platform, but several brands are in the midst of beta testing it. Essentially Pinterest Ads will consist of Promoted Pins, content you choose to promote that will appear high within search results. You'll only pay for the Promoted Pins when a viewer clicks through to your site.
If Pinterest ads sound interesting to you, there's a waitlist you can join.
Hootsuite Advertising
Hootsuite will be working to simplify your social advertising experience in 2015. Stay tuned to the blog for any news as it happens.
Subscribe to the blog by entering your email on the top right of this page.
Start managing social media like a pro with Hootsuite Pro!
Try it out for free for 30 days.